– A very powerful gamma-ray burst seven billion light-years away is detected by telescopes from the earth
– The extremely powerful blast from a distant galaxy created more energy in a few seconds than the sun will burn in its 10 billion year lifetime
-The gamma-ray explosion has taken the record for the brightest light ever seen from earth
A very powerful explosion in space which could be seen from the earth occurred when a gamma-ray burst seven billion light-years away.
Daily Mail reports that brief but extremely powerful blast from a distant galaxy created more energy in a few seconds than the sun will burn in its 10 billion year lifetime.
Gamma-ray bursts are the most powerful kinds of explosions known in the universe. A set of new studies state that they can generate even more energetic light beams than astronomers previously realized.
The powerful blast which was discovered by more than 300 scientists from around the world, led by researchers from Curtin University in Western Australia, has taken the record for the brightest light ever seen from earth.
A researcher, Dr Gemma Anderson, said gamma-ray bursts are the most energetic events in the universe – the most massive since the Big Bang.
Dr Anderson noted that the bursts happen so far away they can only be detected when the beams are pointed directly at earth and can last from a few milliseconds to a few hours.
PAY ATTENTION: Install our latest app for Android, read the best news on Nigeria's #1 news
"They are likely produced by a massive star being blown apart in a supernova, with the resulting explosion leaving behind a black hole," Daily Mail quoted the researcher as saying.
The discovered gamma-ray burst was said to have reached the earth on January 14, 2019, and was detected by two space satellites – the Neil Gehrels Swift Observatory built by University College London and the Fermi Gamma-ray Space Telescope.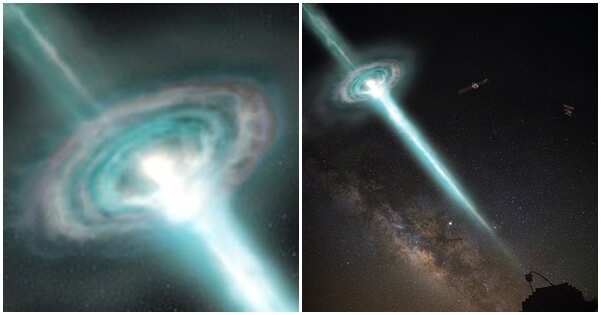 The burst was named GRB 190114C and, within 22 seconds, its coordinates were sent to astronomers across the globe.
Astronomers at the Major Atmospheric Gamma Imaging Cherenkov (MAGIC) telescopes in the Canary Islands were the first to survey the bursts.
Meanwhile, Nigerian skywatchers and those of the rest of the world witnessed a rare celestial event on Monday, November 11, when the planet Mercury passed in front of the sun.
It was the first time this rare occurrence manifested in 13 years. According to Daily Mail, this event, known as a 'transit'.
The newspaper reported that the event was visible from nearly everywhere on Earth with the right equipment – depending on cloud cover.
NAIJ.com (naija.ng) -> Legit.ng Same great journalism, upgraded for better service!
Female aerospace engineer from the Tsaigumi UAV team | Legit TV